Olive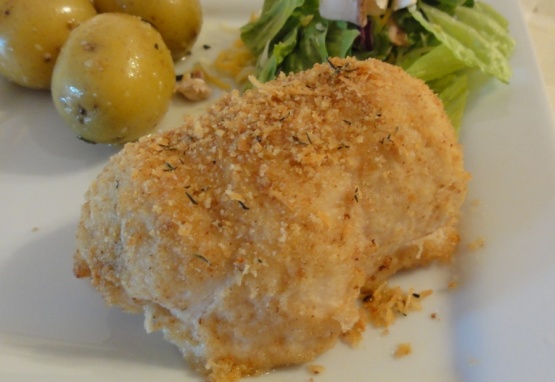 Butter...Garlic...Cheese? Chicken rolled in all? How can this recipe not be a keeper?!! My sister-in-law gave me this recipe some 25 years ago. It's just as good today as it was then - maybe even better since my garlic tastes have increased over the years as well as my "eye-balling" measurements (meaning more garlic!). Just be sure not to overcook as the chicken will be dry - follow these directions and the chicken will be moist. This is a great prepare ahead meal that will impress.

Even with having to change this to meet what I had in the house, I'm still giving it five stars because I can see how it would be great as written as well. Here's what I did differently: cheddar instead of Monterey Jack, butter instead of margarine, whole wheat cracker crumbs instead of bread crumbs. I also read suzy wonton's review where she added Canadian bacon, so I diced some bacon and put it on top of the cheese before rolling the chicken. With the low carbs and high protein, but such rich taste, this one is definitely a keeper for us!
Pound chicken breasts flat.
Slice Monterey Jack cheese about 1/4" thick, roll chicken around cheese.
Dip chicken in butter sauce, then in breadcrumb combination.
Place seam side down in 9x13 baking dish.
Bake covered for 30 minutes at 350 degrees in preheated oven.
Uncover and bake for 15 minutes more or until browned.