Monster Size Breakfast Cookies
paxye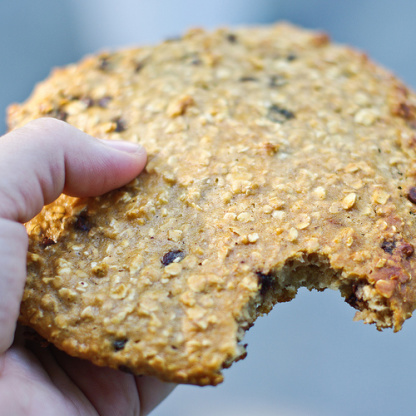 These are Healthy, non-fat, tasty and can be made vegan easily. My Kids love this for breakfast and because they are so easy to make we make them often. If you are in a hurry in the morning you can make these ahead, though we like them warm, or you can mix the dry ingredients before and then just add the applesauce just before baking. This makes 4 monster cookies.

very yummy! I love that it covers the majority of the food groups and it seems like my picky, teething toddler likes it.
Preheat oven to 350.
Mix Oatmeal, raisins, chocolate chips, flour, powdered milk, sugar, baking powder, cinnamon and salt together.
Mix in the apple sauce and vanilla.
Prepare two baking sheets with parchment paper and make 4 mounds, 2 on each baking sheet and spread the mounds out a bit.
Bake for about 15 minute.