Dorel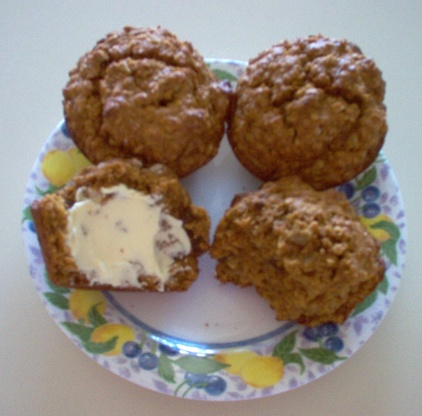 Holy healthy muffin, Batman! These muffins are chock full o' the good stuff! Another plus- other flours, nuts, granolas, seeds, and fruits may be substituted as desired. Recipe is from the La Leache League International cookbook "Whole Foods for the Whole Family" and credited to Suellen Slater of Westboro, Massachusetts.

I am very pleased by the muffins I got but I think I made too many changes to give stars... So here it goes: I used TOASTED sunflower seeds (toasting brings out their rich nutty flavour), flax seeds instead of sesame seeds, prune paste instead of oil and I did add the raisins and nutritional yeast in step 2. I also added 1/2 cup brown sugar (bad me! next time I'll try to leave this out...) and 1 tbsp cinnamon to the dry ingredients. I made 12 BIG muffins and baked them for 30 minutes, which was a bit too much, 25-27 minutes would probably be enough. My muffins were dense (because of the prune paste, maybe) and moist, just the kind of muffins I love, and the sunflower - molasses - raisin combination is great. Thanks for this healthy tasty recipe, Roosie!
Preheat oven to 375°F.
Mix together dry ingredients- oats, sunflower seeds, wheat germ, soy flour, flour, milk powder, ground sesame seeds, salt, baking powder.
Mix together wet ingredients- oil, molasses, milk, eggs.
Stir the wet and dry ingredients together until just moistened.
Bake for about 18 minutes, or until a toothpick inserted into the center of a muffin comes out clean.