Monkfish in Lemon Butter Wine Sauce
ccb531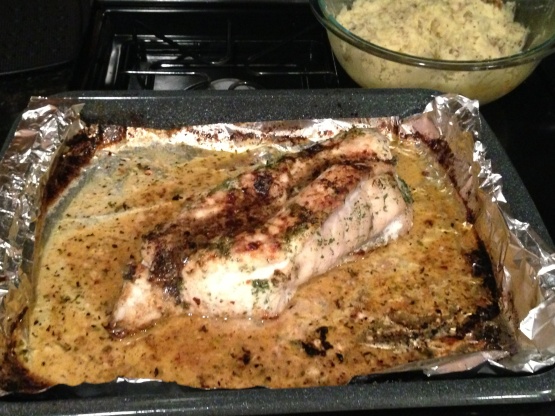 Very Simple Monkfish Recipe. I had something similar in Venice Italy. I have been searching forever for a monkfish recipe with no luck. In fact I became rather intimidated as most sites I found info on said Monkfish was difficult to prepare. So I made this one up Myself. My Husband & children loved it. The cooking and ingredient quantities are estimated as I just threw everything together & this was the 1st time I made this.

Ty anyone who has ever been intimidated by preparing fish: Try this recipe! It was super easy to prepare and the flavor is outstanding, probably better than you've had at most restaurants. I used haddock with fantastic results. You can probably use almost any fish you would like. The only other change I made was to reduce butter by half and when I make it again I will do the same, because I can't imagine this fish tasting any better than it did. What I also love about this recipe is that it's easy to do for a dinner party. I can prepare it in advance and then just pop it in the oven. I can't wait to serve it to my friends. Thank you very much!
Cover broiling pan (at least 1/4" deep) with foil. Heat broiler to Low.
Place Monkfish Fillets in pan & season with salt & pepper.
Slice sticks of butter in 1/8" pieces & lay on top of fish.
Sprinkle lemon & wine over fish.
Sprinkle fish with parsley.
Place in broiler for aprox. 15 to 30 min (I am not sure of the time as I was not paying that much attention to it). I just checked the fish every few minute & took out of oven when fish started to flake.