alligirl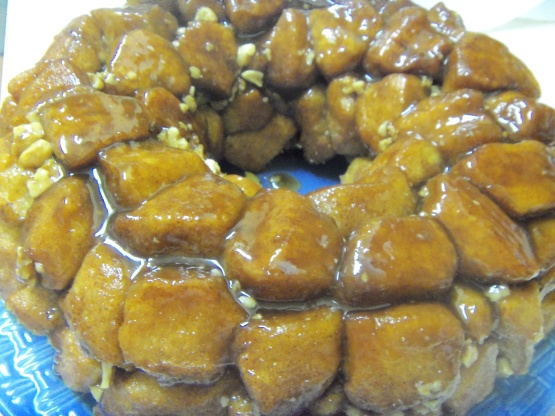 A quick and easy dessert that is sure to be a hit. I've made it several times for friends, and everyone always request the recipe. Once they find out how easy it is, they always freak out! Try this recipe for surefire success.

This was really good, and I made a mistake, right off the bat. I had small cans of biscuits; didn't realize the recipe called for the larger biscuits. My 3 cans worked just fine, and I left all other ingredients the same. The was some cinnamon/sugar mixture left over and there was some glaze pooled in the bottom of the bundt pan, but it was just fine! I think this may have been the best tasting monkey bread I've ever made! Thanks for sharing, jaimed. Made for Fall PAC 2011.
Grease bundt pan.
Cut biscuits into quarters.
Mix sugar and cinnamon together and shake biscuits in sugar mixture.
Put one layer of pecans, a layer of biscuits, and continue layering until all ingredients are gone.
Hint: End with pecans for a better finishing layer.
Melt brown sugar and butter together and pour over the dish.
Bake in 325 degree oven for 30 - 35 minutes.
Enjoy!