Mongolian Flank Steak from Cuisine Lite
Nif_H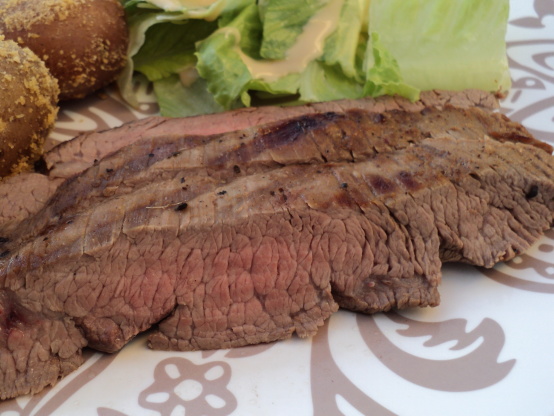 I found this recipe in Cuisine Lite and my whole family loved it! And it's low-cal! I think you could have one and a halved the marinade so that there was more for the steak to soak in, but it was good regardless

Top Review by Nif_H
The blend of flavours in this marinade are great. I let the steak sit for about an hour and used a stove top grill (I thought I had propane for the BBQ!). This marinade would also be very good with chicken or pork. I enjoyed this with Recipe #419021, Recipe #236483 and a fresh salad. Made for my adopted chef for Fall PAC 2011. Thanks Ashley Vineyard! :)
Blend hoisin, broth, vinegar, garlic, sesame oil, brown sugar, soy sauce, ginger, and Sriracha in a blender, or food processor until smooth.
Score one side of steak in a diamond pattern, then place in a resealable plastic bag. Pour all but 1/2 cup sauce into bag, turn steak to coat, and marinate at room temperature at least 20 minutes. (save remaining sauce to use in Snap Pea Noodle Salad).
Preheat grill to high.
Remove steak from marinade, season with salt and pepper, and grill, covered, 5 minutes. Turn steak over and grill to desired donesness.
Transfer to cutting board and let rest 5 minutes before slicing thinly against the grain.