Chemaine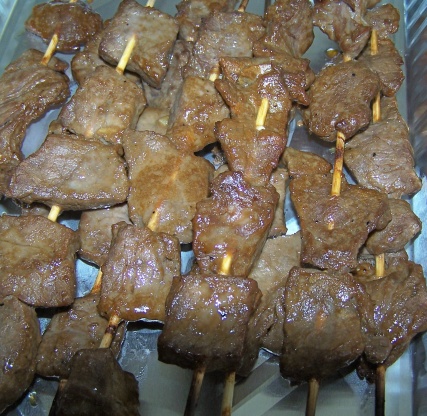 Honor the influence of the Orient. Soy sauce, fresh ginger, and sesame oil give this appetizer its Asian accent. Wonderful flavor, we had these for the Super Bowl and they were very much loved!!
2 1⁄2 lbs flank steaks
1⁄2 cup hoisin sauce

2

tablespoons peanut oil

2

tablespoons sesame oil

2

tablespoons dry sherry

2

tablespoons soy sauce
1⁄2 teaspoon sugar
1⁄2 teaspoon pepper
1⁄2 teaspoon fresh gingerroot, grated
Slice steak diagonally across grain into 1/8 inch thick strips. Place in a large heavy-duty zip-top plastic bag. Set aside.
Combine hoisin sauce and remaining 8 ingredients; stir well. Pour marinade over steak, seal bag securely. Marinate in refrigerator 8 hours, turning occasionally.
Remove steak from marinade, discarding marinade, thread steak onto 32 (6 inch) wooden skewers. Broil strips 3 inches from heat 2 to 3 minutes on each side or to desired degree of doneness.
Note: Unlike metal skewers, wooden skewers can burn under the broiler. make sure you soak wooden skewers in water at least 10 minutes before threading food onto them to prevent any flare-ups.