Mongolian Beef and Bok Choy
NNChick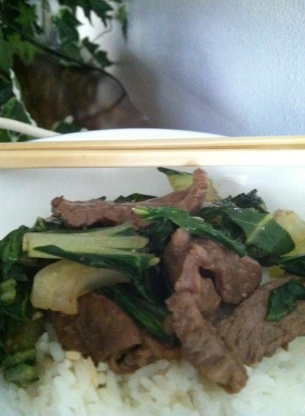 This recipe was sent to me buy a good friend and I have no idea where he got it. But I tried it once and I've never eaten at a Chinese restaurant since. Let me describe Bok Choy; it's a Chinese plant that really resembles a leek but it's related to a cabbage. You could use cabbage for this if you can't find it and it's still fabulous.

I gave 4 stars because the "bones" of the recipe are good. The meat needed more flavor (maybe marinate with pepper as well as adding a little more oyster sauce and less oil) but the bok choy was outstanding in this dish! The balance of garlic and fresh ginger is absorbed by the bok choy and the gravy of the whole dish was spot-on. It just needs a much better season for the beef.<br/><br/>Oh yeah... use the marinade oil to saute the garlic and ginger. She didn't add more or the whole dish could get too greasy.<br/><br/>It's a great start to playing with Chinese dishes. Good luck!
Marinate the flank steak in the oyster sauce and 1/4 cup vegetable oil.
In a separate bowl mix soy sauce, sesame oil, and chicken broth.
Sauté garlic and ginger in very hot wok.
Add flank steak and sauté for 2 minutes.
Add bok choy and sauté for 2 minutes.
Add sauce and cook for 30 seconds.