Mondo's Hot & Spicy Pickles
LCinVa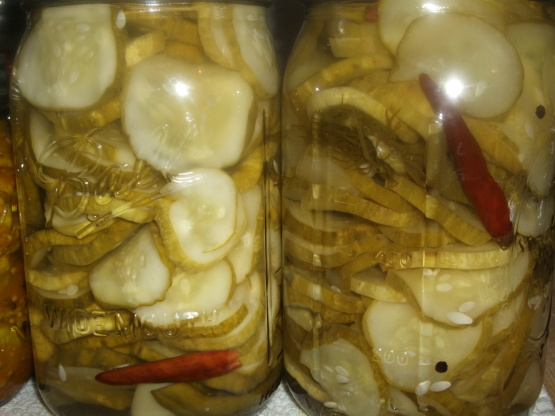 This recipe was created by my husband Armando (Mondo) who has come up with this recipe after searching for a good hot & spicy pickle and couldn't find one that was spicy enough! People beg for jars of these and my friend Stacey claims that they cure any cold!!HA!

Excellent recipe - just opened a jar from the first batch we made and we were so excited about them that we are making a second batch today. A bit tricky to follow the recipe as written as the steps don't quite make sense but after rereading for a third time we got it done.
Clean cucumbers in cold water.
Place water, vinegar, sugar, salt in large pot.
Place sprigs of dill (stems and all) and pickling spices in cheesecloth. Knot the cheesecloth and place in pot with the rest of ingredients.
Bring to a boil to make a brine solution.
Place a few peppercorns, few garlic cloves or chopped garlic, 1/8 teaspoons Alum, a couple dried whole chile peppers in each empty canning jar that is going to be used. If you desire hotter pickles, add optional 1 - 2 teaspoons crushed red pepper flakes to each jar.
Then place pickles in jar and fill with brine solution.
Wipe rims of jars with clean cloth, place lids and screw on bands fingertip-tight.
Process for 8 minutes in water bath.
Remove to cloth-protected counter and let rest undisturbed for 24 hours to cool.
Pickles are ready to eat in about 2 weeks. Enjoy!