Monday Night Pork Tenderloin
Nimz1466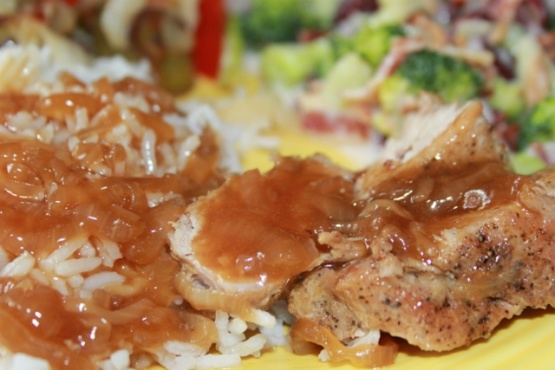 My sister and I cook dinner for a group of want-a-be race car drivers that meet in the Man Cave every Monday night. This is one of their favorite meals that we fix. It is simple to make and is just down right good eating. It makes its own gravy that is great over rice or mashed potatoes. Hope you enjoy.
Trim most of the visible fat from the tenderloin.
In a large oven proof skillet heat oil over medium high heat.
Sprinkle the garlic powder, salt and pepper evenly over the tenderloin.
Add to the oil and brown on each side about 3 minutes or until golden brown.
Remove the skillet from the heat.
Remove the tenderloin and set aside.
Drain the oil leaving the browned pieces.
Return the tenderloin to the skillet.
Add the sliced onion to the skillet layering some on the top of the tenderloin.
Mix the French Onion Soup Mix with water. Pour over the tenderloin and add the bay leaf.
Cover and cook for about an hour or until the internal temp reaches 160 degrees.
Check the last 15 minutes or so and add a little extra water if needed.