Laka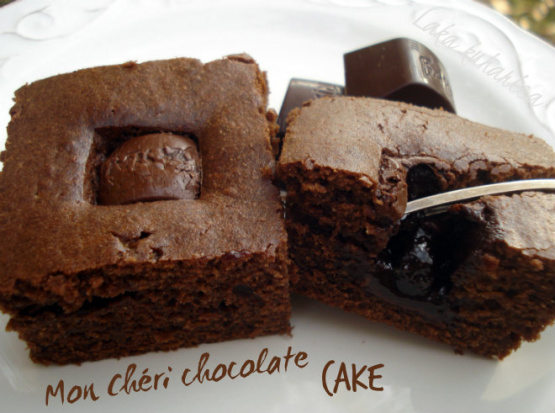 Recipe by Laka
This easy, brownie-like cake is studded with chocolate pralines filled with juicy sour cherry immerged in liquor.
Melt chocolate and butter over very low heat, stirring until completely melted and combined.
Remove from heat and stir in sugar.
Add eggs and vanilla extract to the chocolate mixture, stirring constantly.
Mix the flour with salt and yeast, add to the chocolate batter and mix to combine.
Pour the batter into the greased and floured small rectangular baking pan (23x17 cm).
Unwrap chocolate pralines and insert them evenly into the batter (each slice of cake should have a chocolate praline in the middle). Bake for 30-35 minutes in the oven preheated to 180°C. Check with a toothpick if done.
Allow the cake to cool in the pan, then cut into squares and serve.