Momz's Sweet and Sour Meatballs
loof751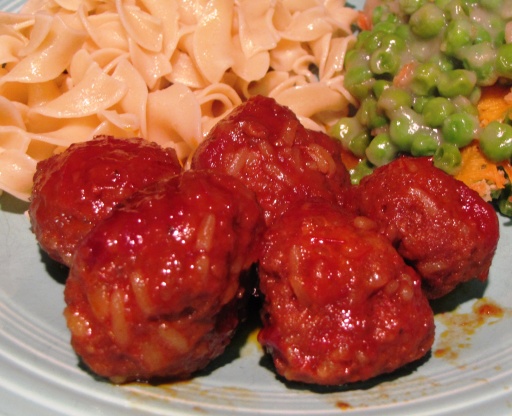 My mother in laws' recipe. I make a variation but it's never goes over as well as these do.

GREAT MEATBALLS, HERE! After making these we had 8 of them for supper with some cheese tortellini & it was very satisfying! The rest were divided between 2 freezer bags & frozen for later use! The guava jelly & chili sauce made a nice combo! Thanks for sharing the recipe! [Tagged, made & reviewed for one of my adoptees in the current Pick A Chef]
In a large pot, dump guava jelly and chili sauce, and fill chili sauce jar with water and add to the mix. Heat to blend.
Mix beef, rice, egg, water, dash of garlic pepper, bread crumbs in bowl and form meatballs and add to sauce.
Cover and heat on low for 1 1/2 - 2 hours.