Rita1652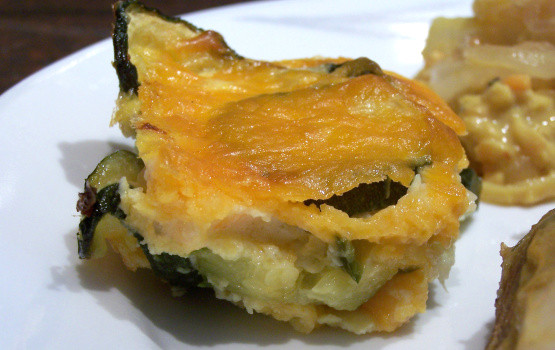 I love this simple dish. Even those who aren't crazy about zucchini will like it!

We enjoyed this as a side dish when I wanted something different then just fried zucchini. I used crackers, cause another reviewer did, and I did not know what "pinched" bread was. I followed the directions through step 7 and baked it, just leaving out the second part of step 8 since it was too late.
Preheat oven to 350 degrees.
Cook zucchini until tender. (On the stove, add a little water, cover and cook about 15 minutes. In the microwave, cook about 5 minutes.).
Either on the stove or in the microwave, melt butter with onions in it.
Pour water off zucchini.
Combine zucchini, onions, butter, salt, pepper and pinched bread in a good-sized bowl and stir.
Add egg and first amount of cheese and stir.
Pour into a greased casserole dish. Sprinkle remaining cheese on top.
Bake at 350 degrees for 30 minutes. Add remaining cheese about 10 minutes before casserole is done.