Redsie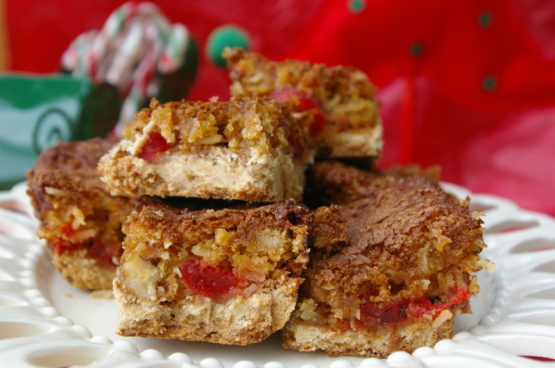 Just found this recipe in Chatelaine magazine - been looking for this recipe forever!! My mom used to bake these when I was a kid and I loved them! Looks just like the recipe she made!
Preheat oven to 350°F
For base, lightly butter an 8 inch square baking dish. In a bowl, using a fork, stir flour with sugar. Work in butter until coarse crumbs form. Press over bottom of buttered dish. Bake in centre of oven until light golden, 15 to 20 minutes. Remove, but leave oven on.
While base is baking, in a small bowl, using a fork, stir flour with salt and baking powder. In a large bowl, whisk eggs. Using a wooden spoon, stir in sugar and vanilla until evenly mixed. Then stir in walnuts, cherries, coconut and flour mixture. Spread over warm base. Bake in centre of oven until topping is golden and slightly jiggly, 20 to 30 minutes.
Remove to a rack to cool at least 1 hour before cutting into bars. Bars cut best after refrigerating overnight. Refrigerate up to 1 week or freeze up to 1 month.