megs_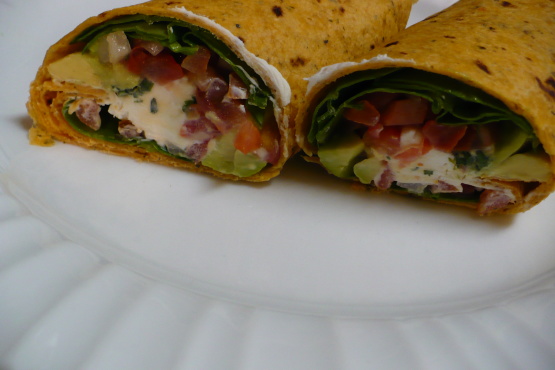 These are the BEST. :) They are yummy, healthy, and super quick to prepare. You can also customize them any way you like. This is my favorite way. Feel free to add other veggies you like to it!

I hate to be one of those people that reviews a recipe after having made a lot of changes to it, but our makeshift, lower-fat version of this was well-received so, here goes: We couldn't get our hands on tortillas, so we used some pita bread we had frozen, which was great; instead of traditional pico de gallo (the storebought stuff tends to be loaded with fat, etc) we chopped up some tomatoes, olives, and red onion and zested with a bit of salt, pepper and basil; and instead of goat cheese we subbed half as much feta (because feta has a bigger flavor, so you can use less and not get as many unhealthful fats). And we had fun trying different dressings on these, too (french won out as the favorite). These were great and will definitely be made again; this more than any other recipe I've found really got our creative juices going in the kitchen! I don't think you can go wrong here.
1

tomato-basil tortilla
1⁄2 cup fresh spinach leaves
1⁄2 avocado, chopped
1⁄4 cup pico de gallo, prepared

1

ounce goat cheese

1

teaspoon low-calorie Italian salad dressing (I use the 5-6 sprays of the Italian Salad Spritzer)
Layer the ingredients on the tortilla exactly as listed. Wrap up, slice in half, and enjoy!