Mom's Vegetable Soup With Chicken or Beef(German Gemuse Suppe)
BecR2400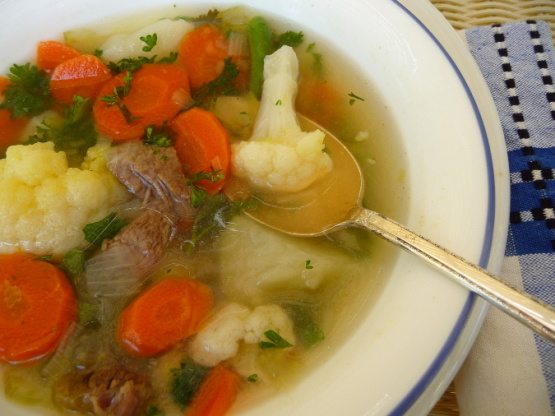 Nothing can beat a bowl of steaming hot soup to warm the soul! This hearty chicken (or beef) vegetable soup is especially welcome and satisfying on a cold winter's day, or if you're feeling a bit under the weather. Serve with a crusty French bread or rolls and fresh butter; would also be great topped with matzo/matzoh balls, freshly chopped dill, and fresh lemon slices. From my mother, who has been making this soup since time immemorial. Enjoy!

Delicious and very versatile. I had a lot more meat in mine as DH thought he had taken hamburger out of the freezer but had tales a package of stew beef and I used that to make this lovely soup. I added broccoli along with the cauliflower just because I love it. I didn't have any parsley so it went without. Of course I changed the chicken bouillon to beef in my case. We had a grand lunch with it yesterday and as I made to full amount and have some in the fridge and some in the freezer we have great soup to look forward to. :D
To an 8 quart stock pot, add beef bone or chicken, water, bay leaf, onion chunks, and sprigs of parsley. Bring to a boil; cover, then simmer about 1 to 1 1/2 hours until beef or chicken is almost done.
Remove meat bone or chicken to a plate and let cool enough to handle. Strip meat from the bones into chunks (discard bones), and set aside.
Meanwhile add sliced carrots, leek, chopped celery with leaves, chicken bouillon cubes and pepper (do not add salt). Bring to a boil; cover and simmer 5 to 10 minutes.
Add the potatoes and the chunks of meat from the cooled soupbone or the chicken; cover and simmer about 35 minutes longer.
Add cauliflower rosettes, cover, and simmer for 10 minutes. Add chopped fresh parsley and remove from heat.
Serve steaming hot with a crusty French bread or rolls and butter.
Makes good leftovers (soup is great on day 1, but tastes even better on days 2-3), and freezes/reheats well.
VARIATIONS: May add about 6 oz. frozen peas at same time as cauliflower (increase cooking time by about 5 minutes to compensate for the cold peas). I also sometimes add a cup or two of fresh sliced zucchini and/or green beans a few minutes after adding the cauliflower. Also good with sliced hot dogs or kielbasa sausage added during the last 5 minutes or so of cooking time (enough time to heat through).