Mom's Traditional Italian Cookies
Luschka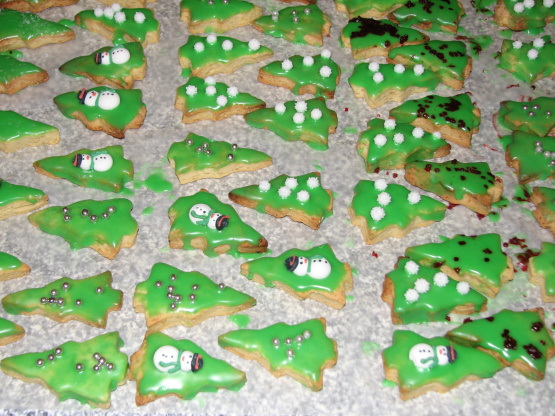 These cookies are a staple in my family. They are so simple, yet so incredibly wonderful. This recipe has been passed down from my great-grandmother. I've listed here the original recipe from my Nonna and great Aunt, as it was given to my mother. It can easily be cut in half, or in fourths. Obviously the full recipe makes ALOT OF COOKIES!! My mom has been known to actually make the full batch, especially for Christmas. Besides the traditional "knot" shape, the cookie dough can be rolled out and cut with cookie cutters. Pumpkins, Autumn leaves, Christmas trees, stars, and Easter eggs are but a few of the shapes we like to make these in. I hope you enjoy them as much as my family does. (Prep time includes dough resting time, and cooking time includes glaze drying time)

I made a quarter-recipe except since I planned to use my cookie press, I used 1/2 teaspoon baking powder because I didn't want them to puff too much. I used some italian orange oil (fiori di sicilia) in the dough, and orange oil, lemon flavouring, and lemon juice in the glaze, and they were wonderful! Took them to Easter Dinner (an Italian-themed potluck) and our family loved them. Thanks so much - I will make them again! (and I'll make them without the cookie press & the right amount of baking powder soon too!)
For Cookie Dough: Cream butter & sugar.
Beat in eggs, baking powder, extracts and 3 cups of flour.
Add remaining flour until a stiff dough forms.
Chill dough for at least an hour to make it easier to work with.
At this point you can form the dough into knots (small for cookies- larger knots yield egg biscuits) or roll out the dough and use cutters.
Bake for 10-12 minutes at 375°.
For Glaze: I put about 2 cups of powdered sugar in a bowl, add the extract (just a splash) and a little milk.
Then I mix and add more milk until it gets to a smooth consistency- I don't like it too runny.
Should be like the consistency of a thick alfredo sauce.
Once cookies are cooled, dip the tops of each one into the glaze, or drizzle glaze over the cookies, and allow to dry completely.
Can be topped with colored sugar or sprinkles, your choice.