Rita1652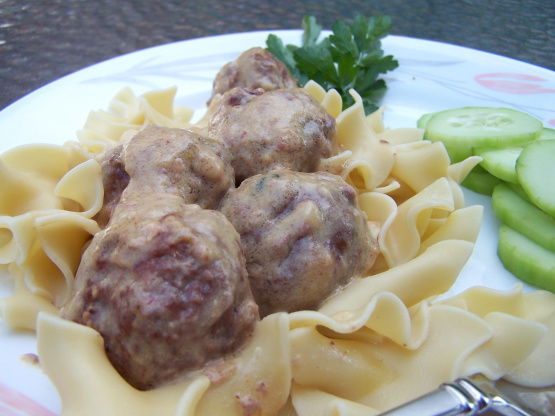 This recipe is such comfort food for me. It reminds me of being little and my mom making this; it's creamy and delicious on the egg noodles!
1

lb ground beef
1⁄2 lb ground pork
1⁄2 lb ground veal

1

teaspoon instant minced onion

1

egg

2

slices white bread, no crusts

1

dash salt and pepper (for meatballs)
1 1⁄2 tablespoons oil
1 1⁄2 tablespoons margarine

3

tablespoons flour

1

quart half-and-half

1

teaspoon Gravy Master or 1 teaspoon Kitchen Bouquet
salt and pepper (for sauce)

12

ounces wide egg noodles
Mix beef, pork, and veal together in a bowl with the onions, egg, white bread broken up into small pieces, and sprinkling of salt and pepper.
Roll into balls about the size of a golf ball or a little smaller.
Saute meatballs in melted margarine and the oil until browned.
Remove meatballs from the pan and set aside.
Add flour to the grease in the pan(to make a roux) and stir constantly for 30-60 seconds.
Add 1/2 of the carton of half and half, the gravy master, and salt and pepper to taste.
Stir until it starts to thicken, and then add meatballs back to the pan.
Simmer on low for 40 minutes.
As it thickens more, you can add the rest of the half and half as needed. (I usually end up adding the rest little by little because I like it saucey and because some of the sauce cooks away while simmering.).
Re-season with salt and pepper to your taste, before serving on top of cooked egg noodles. Enjoy!