Mom's Stuffed Bell Peppers (No Meat)
Boomette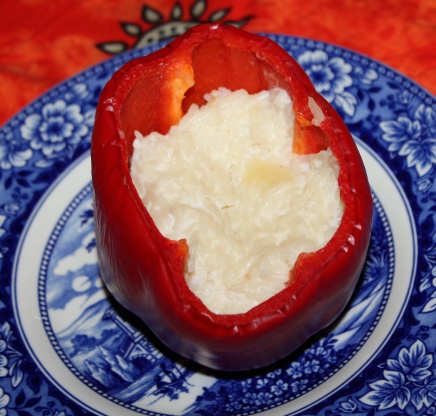 Cheddar cheese and rice stuffing make these delicious! No frying involved.
This is a great way to have a meal without meat. We thought something was missing. Maybe some garlic and spices added to the rice would be better. We found it a little bland like that. It was filling enough. Thanks laurenpie :) Made for PAC Spring 2013
Remove tops from bell peppers (retain), remove seeds. Boil bell peppers and tops in large pan of salted water for 5 minutes. Remove, drain, cool. Arrange in baking dish.
Mix rice with cubed cheese, set aside.
Saute onion in butter, stir in flour. Add milk, boil and stir until thick and smooth. Remove from heat and combine with rice mixture. Stuff bell peppers, and cover each with it's stem top.
Pour 1/4" water in bottom of pan, then bake at 350 degrees for 25-30 minutes.