Junebug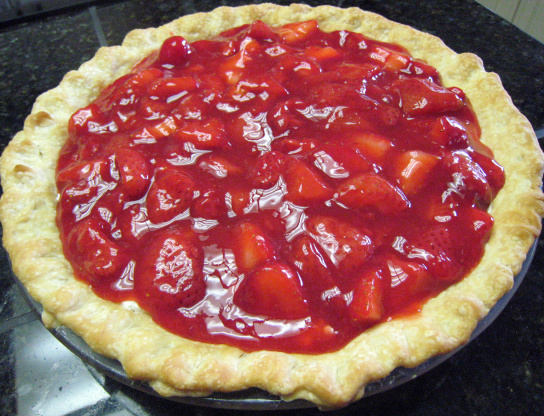 My mom is a great cook, but she is famous for two things. Her molasses cookies and this strawberry pie. Oops! Edited to correct posting error after Ms Sally's review.

I have made this three times and it comes out great each time. The cream cheese in the filling really makes it different from other strawberry pies. I put really large chunks of strawberry in the topping so they do not break down so badly. Make sure you give it enough time to chill and set up.
STRAWBERRY TOPPING.
Wash and halve strawberries.
Whisk together the sugar, cornstarch and salt in a medium saucepan.
Add the water, lemon juice and red food coloring. Cook over medium high heat until the mixture starts to thicken, stirring frequently.
Add half of the strawberries and cook until mixture is thickened.
Add remaining strawberries and remove from heat.
Cool completely before putting on top of cream filling in pie shell.
CREAM FILLING.
While strawberry filling cools, whip the whipping cream.
In separate bowl, beat together the cream cheese, powdered sugar, vanilla and salt.
Fold in the whipped cream and spread in the bottom of the cooled pie shell.
Once the strawberry filling has cooled, gently put it on top of the cream filling.