Prep 30 mins
Cook 15 mins
The exact amount this makes is up to you; you should get around 30 meatballs. You could use the meatballs in a sub sandwich or pasta with your favorite sauce. Kids will love these and still eat their spinach! From 'My Muffin Thursdays' food blog.
Directions
In a food processor, combine spinach, parmesan, mushrooms, garlic, Worcestershire sauce, Italian seasoning, pepper, and salt. Process till well combined.
Add eggs one at a time and process till well combined. Transfer to a large bowl. Combine with beef (I find this works best with one's hands). Mix well.
Shape into 1 1/2" balls.
Place meatballs on a baking sheet lined with foil and/or sprayed with cooking spray. Bake at 400 degrees about 15 minutes, or till meat is no longer pink.
Most Helpful
These are great, and very tasty. I made the recipe as written, settling on 5 cloves of garlic and with the sub of carrots in place of the mushrooms only because that's what I had on hand. They turned out awesome. I like that they are so tender and not as dense as meatballs made using breadcrumbs. Personally, I don't miss them at all in these. I got 35 meatballs and they baked for 20 minutes. Excellent! Thanks for sharing the recipe Ashbow!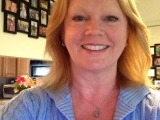 I have 16 month old son who we've been trying to get to eat more spinach due to digestive issues. Due to his age he's becoming more and more picky. He couldn't get enough of these for dinner last night. It was the first meal in weeks that wasn't a battle of wills to get him to eat. THANK YOU so much for posting this. My husband who isn't a huge spinach fan said that if these became our regular meatballs he would not be upset. And the food tinkerer himself (DH) said they were good as is! They did take about 30 min, but I believe I made them a little bigger than it called for. I also added a few bread crumbs for texture.
I used these in place of my regular meatball recipe for use with meatball subs a few nights ago. Overall, considering the fact that no one in my family is a huge spinach fan, I think they went over pretty well. If I were to make them again, I would definitely follow seal angel's lead and not use the whole box of spinach - that did end up being a bit much for us (but when covered in marinara, it wasn't totally overwhelming at least). I also found the need to add some bread crumbs just to make the meatballs be the texture I'm used to working with, and I omitted the mushrooms because no one in my family likes them. It may have been the fact that I used italian seasoned breadcrumbs, but I found 5 garlic cloves to be a bit too garlicky, so I would decrease those in the future. I baked for around 20 minutes and got 35 meatballs based on the size I made them. Considering my husband called spinach "a hard core veggie" when I first told him I was going to try this, I think it was relatively successful simply because he ate a full meatball sub and my 3 year old said she liked them and wanted seconds. Thanks for posting!