Boomette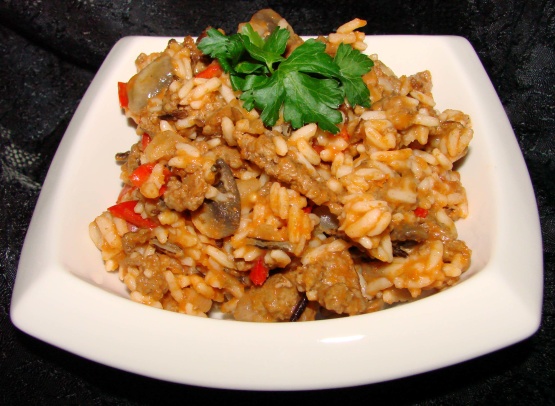 This is very close to the way my Mom made Spanish Rice. This dish was taken to every pot-luck we attended, not because it was what she wanted to take but it was what everyone asked her to bring. This is a very simple dish with only as much spice in it as you want. I am posting it as the very basic recipe. You can add to it what you like to suit your palate. I like to serve this with creamy coleslaw.
I added 8 ounces of sliced mushrooms, 2 small red pepper. I used only 1 tbs of vinegar and 1 tbs of Splenda brown sugar. I omitted the salt and pepper. I used 1 1/2 cup of water and after the 30 minutes I added 1/2 cup water. No more was needed. I used a mixture of long grain white rice and wild rice. This dish is so tasty and different. I love it. Thanks Gayla. Made for Please Review My Recipe.
Preheat oven to 325°F.
Brown ground beef, break it up as it browns.
When the ground beef is taking on colour add in the diced onion and salt and pepper.
Add in any optional vegetables at this point.
When onion has softened add the vinegar and brown sugar.
Add the tomato soup and water, stir well. I start with 1 and 1/2 cups of water, you likely will need to add more as it cooks.
Adjust the seasoning if you need to.
Add in the uncooked rice and stir.
Pour into a casserole dish.
Bake in oven for 45 -60 minutes, cover for the first 1/2 hour. Check after 1/2 hour and add more water if it seems too dry.
You want it to be a bit dry in the end, soft but not mushy.