Mom's Simple Pumpkin Roll
JillQH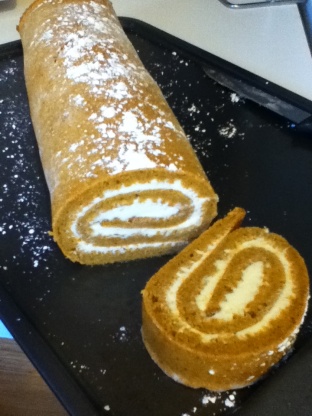 This is mom's basic pumpkin roll recipe. Very simple for a simply wonderful alternative to the pumpkin pie.

I made this twice this week, not having any self-rising flour, I used the same amount of all purpose flour & 1 t. of baking soda. The first time I made it as instructed with the exception of AP flour baking soda. Almost everyone went for seconds and/or asked for the recipe. The second time I made it, I added 1/2t. ground ginger and a few dashes of ground clove. This really made the bread even more flavorful. I will be making more of these (and freezing some too) real soon! Thanks for posting.
Preheat oven to 350 degrees.
Beat eggs for 5 minutes to make fluffy.
Add sifted self-rising flour, sugar, and spices along with pumpkin. Mix through.
Spread mixture into a greased & floured 10"x15" baking pan (a large cookie sheet will work fine).
Bake for 15 minutes.
Take a medium sized kitchen towel (one that is larger than the cookie sheet), lay it flat and heavily sprinkle with sifted flour.
Invert cake onto towel, and roll cake and the towel together. Cool in fridge.
Combine softened cream cheese, softened margarine, sifted powdered sugar and vanilla with mixer.
Once pumpkin cake is cooled, unroll and spread all cream cheese icing over cake.
Reroll cake, but make sure to not put too much pressure on cake, as icing will ooze out the sides.
Place seam side down and refridge again.
Sprinkle top with extra sifted powdered sugar for decoration.