Hadice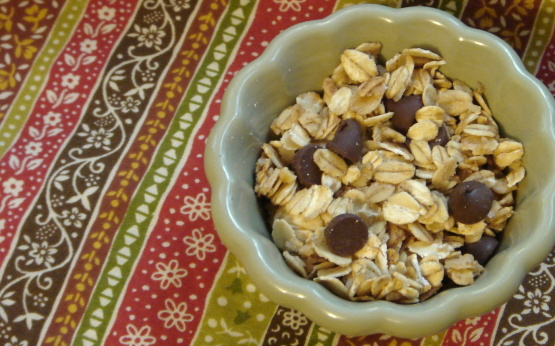 My Mom literally makes this granola every other day. It barely makes it off the cookie sheet before it is gone. Great as a cereal with milk, as a snack, as a topping to yogurt, OR dare I say, a topping to create fruit crisp. I like to make mine with milk chocolate chips or dried cranberries, but you can add any extras you like!

This is TERRIFIC!!!! I followed fairly close to the recipe with a couple minor exceptions. I used Butter in place of the oil, and I added about 2 T of maple syrup. This was needed because I processed about a cup of the oats in my blender so I could make some "nuggets" of granola. Also, my coconut is all natural and not sweetened. I love it and will be making this again and again. Couldn't even wait for it to cool, Had to have some on my yogurt for an afternoon snack! Thank you so much
Preheat oven to 350°F.
Mix first seven ingredients in a large bowl. Set aside.
In a glass measuring cup or bowl, microwave honey, oil and vanilla extract for one minute.
Pour honey mixture over dry ingredients.
Stir until mixture is well coated.
Spread into a lightly grease cookie sheet.
Bake for 8 minutes.
Stir granola and spread out again.
Bake an additional 6-7 minutes.
Cool completely.
Break up granola and add desired "extras" (chocolate, dried fruit).
Enjoy!