WiGal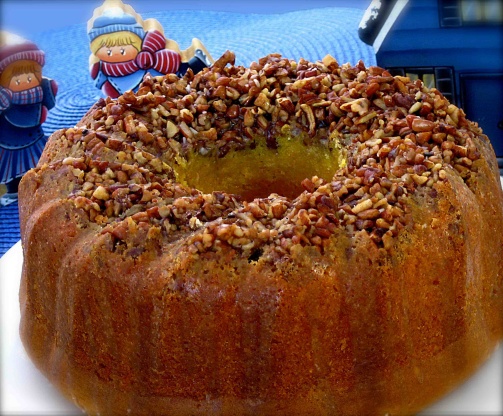 Mom made this cake for years, especially for bake sales. She dressed it up so nice with her rum glaze and maraschino cherries. She says don't be shy with the rum glaze, generously pricking with cooking fork and saturating with turkey baster! What can I tell you? Mom's Rum Cake was the first to go at bake sales. Wonder if the secret to her 88 years is rum. See Mom's Mincemeat Pie recipe. No matter what, mom always baked like she wrapped gifts--with tender, loving care.

Top Review by WiGal
Definitely a 5 star! Love the nut topping ! A super moist cake with a great rum taste and smell. I originally became interested in this exact recipe as my friend Elaine gave me a copy. She ships it to her family in the $10 flat rate box. I can see that it would work good for that. That idea intrigues me. Also, appreciate that it keeps so well in the fridge plus being fairly easy to make. Elaine lent me her silicon bundt pan and just might buy one for myself. I used Meyers dark rum and next time am going to use coconut rum the next time-and there will be a next time for sure. Suzanna you have a winner here!
Sprinkle nuts over bottom of greased and floured 10 inch bundt pan.
Mix all cake ingredients and pudding mix together; pour batter over nuts.
BAKE AT 325 DEGREES FOR 1 HOUR or until toothpick inserted comes out clean.
Set on rack to cool; then invert on serving plate.
GLAZE: Melt butter or oleo in saucepan; stir in water and sugar. Boil 5 minutes, stirring constantly; stir in rum.
Generously prick top, sides, and inside ring of cake with cooking fork.
Using turkey baster, soak and then brush glaze evenly over top and sides of cake.
Garnish with whole maraschino cherries and a border of sugar frosting, cool whip or whipped cream.