Prep 8 mins
Cook 1 hr 30 mins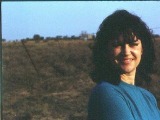 With the right kind of potatoes, these are the best in the world. I've been known to make myself a plate of "Astrid" (type of tater) roast potatoes and just have that for dinner. But then, I'm not strong on self-discipline.
6 large potatoes, preferably a yellow, floury type
Directions
Heat oven to 400 deg F/200 deg Celsius.
Peel the potatoes and if large enough, slice each in two.
Boil them until the outside starts to flake a little and the potatoes are tender.
(Here the type of potato comes into play. The hard white types are not as good for this, as they do not threaten to collapse, like a good soft yellow potato does, and which make the best roast potatoes. The best is then to cook them until a skewer goes through, score the skin with a fork, and go ahead -- ).
Lift out the soft, cooked potatoes with a slotted spoon and put them, hot and drained, in a small plastic or other bowl.
Pour over about 1/2 cup canola or sunflower oil, and shake or roll around carefully with a spoon until well coated with oil.
Do NOT use any salt on the potatoes.
When well coated with oil, lift with a slotted spoon into an oven dish (like pyrex).
Bake for an hour or more, until potatoes are dark golden brown and crispy on the outside.
It's usually nearer to 2 hours -- You want that dark brown which indicates a thoroughly baked potato.
Never cover at any stage, even if you have to keep them warm for a while.
Break open at the table, and season with a good sea salt like Maldon.
Most Helpful
This is a wonderful recipe! I usually make roast potatoes with a bit of flour added in for the crunch but this one turned out just as good! They were crunchy on the outside and the inside were nice and fluffy! But it's vital to use the right type of potatoes. Thank you, Zurie, for sharing your Mum's wonderful recipe, definitely will be making it again!

Wonderful potatoes ! Great flavour and the ones that crisped up a bit were yummy :) I used potatoes that I hand on hand and found that they took ages to crisp up, so obviously they were not a great roasting variety and I won't make that mistake next time! I didn't have time to let these really crisp up well, but will allow for that properly next time because these are well worth the effort. Please see my rating system, a wonderful 4 stars for a yummy recipe that I am sure is even better once I make it with a spud more suited to roasting. Thanks !

Great potatoes Zurie. We loved them prepared this way. So quick and easy and so very tasty. I used Yukon Gold potatoes to get that wonderful flaky potato texture. They cooked for about 1 1/2 hours in my convection oven. Made exactly as written and wouldn't change a thing. Garnished with coarse sea salt. Thanks for sharing a new family favorite. Made for a friend.