Mom's (ramadan) sandwiches
PetsRus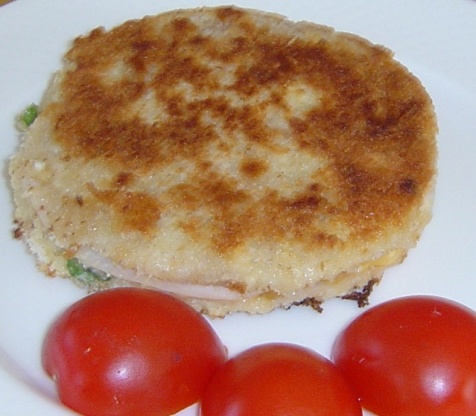 Yummy breaded sandwiches my mom made during ramadan. Can be served as an appetizer, but use a small cutter. Use different fillings if you like, next time i plan to try salami, cheese and salsa .. can be fried, baked or broiled, whatever you prefer ..
This is wonderful if you deep fry the sandwiches. They remind me of an empanada, but are so much easier. I have made similar sandwiches using biscuit dough, but sliced bread is a much cheaper alternative. I used rotisserie chicken, mayonnaise, steamed broccoli, colby jack cheese, onion, garlic, and salt and pepper. They came out amazing. By the way, I crimped the edges together using a fork to seal in the ingredients before dipping in the egg wash and crumbs. I also added a dash of seasoning salt to the bread crumbs, just for added flavor. Yummmmmmy!!!
Cut out (using a round cookie cutter) a circle out of the bread slices.
Shred the chicken breast into small pieces.
Prepare the sandwiches: spread with mayo, layer with chicken, tomato and lettuce.
Press down the sandwich using your hand, this makes the next step easier.
Dip into the egg, then the breadcrumbs.
Be sure to cover the sides of the sandwich as well.
Fry in a little oil until golden-brown.
Can be baked or deep-fried as well.