Parsley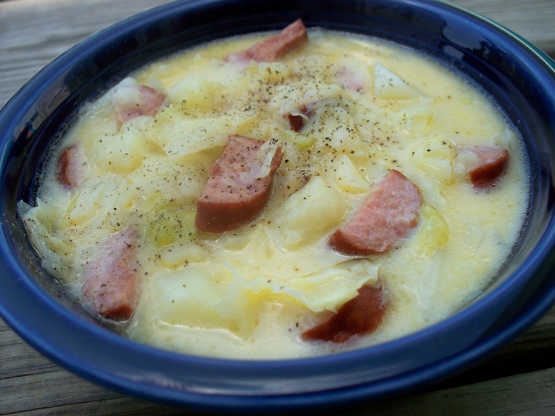 My mom would make this when we were children. It is simple, inexpensive, & it feeds a lot. Onions can be added to this stew. As picky children we didn't like them so Mom left them out.

I liked this as a base. I cook for 2 plus enough for my husband to bring to work the next day. 32 oz of unsalted chicken stock, 1/2 pound of Kowalski (made in Detroit) Polish sausage, 1 cup of shredded cabbage slaw with carrots, 4 small red potatoes with skins (chopped), 1/8 c. dried minced onion, 1 1/2 t. garlic powder, 1 t. onion powder, 1/8 t. cayenne. Cook until potatoes are soft. Add 6oz of Velveeta until melted, took some stock out before that to use for a thickening mixture, mixed with flour. After cheese is melted and you thicken it, then add 1/2 cup of half-n- half. We enjoyed this immensely. Husband had 2 bowls, I had my share, and he was able to bring some to work today. Thank you!
Cut the core out of the cabbage. Rinse & cut into quarters then cut the quarters in half. Peel the potatoes & cut into large chunks.
Cut the sausage into 1/2 inch pieces. Then brown in a frying pan for 5 minutes.
Add all the ingredients into a large pot except the cheese. Add enough water to the pot to cover the cabbage.
Cover & cook over medium-low heat for 20-25 minutes. The soup is done once the potatoes are tender.
Optional: Halfway through cooking cut the cheese into chunks & add to the soup. Stir until melted.