Mom's Pizza Subs With Ham
lets.eat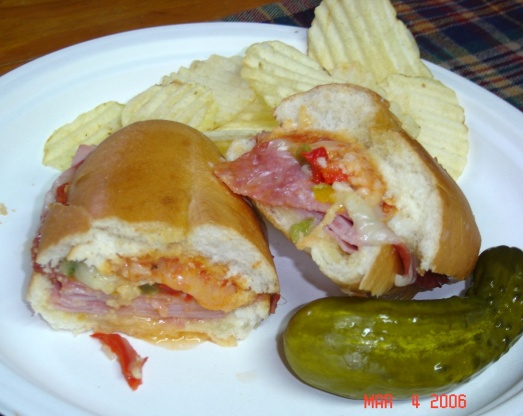 My mom made these for us when we were kids. I love them still. They are so fast and easy to make! My son likes them too. I serve these with chips and fruit salad for a fast dinner.

Really, really good. I used marinara, added deli salami and frozen sliced multi colored peppers. Because we love garlic I sprinkled extra onto the margarine. Did have to microwave them to melt the cheese more, but that was due to the fact, I'm sure, because of the additions I added. Thank You Amanda!
Preheat oven to 500 degrees F.
Mix melted butter and garlic powder.
Brush onto sub rolls.
Bake in preheated oven about 3-5 minutes, or until rolls are crispy around the edges.
Remove from oven.
Top bottom halves of rolls with equal amounts of ham, sauce and cheese, in that order.
Top with top halves of rolls and return to the oven.
Bake another 3-5 minutes, but watch very closely.
The cheese should melt, but don't burn the bread!