Mom's Peanut Butter Crunch Cookies
flower7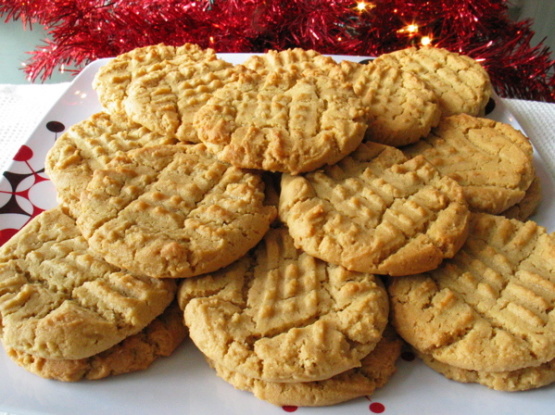 My mom first made these cookies for me back in 1979 when I was just in kindergarden. These unique peanut butter cookies feature the addition of Shredded Wheat cereal which adds a delicious and tasty "crunch" in every bite!

These were very nice! Not much different flavor-wise than any other peanut butter cookies, but the cereal added a different, kinda chewy texture. I used my cookie scoop to dish these out and they were probably larger than intended since I only got 42 fairly big cookies (about 3" across). Even though they were large, they were baked perfectly in 12 minutes. A great way to use cereal that I don't like much by itself! LOL Thanks for the recipe!
Oven@ 350 Crush cereal into shreds.
Set aside.
Mix flour, soda and salt; set aside.
Mix rest of ingredients.
Beat until light and fluffy.
Fold in dry ingredients; mix well.
Drop by tablespoons full onto ungreased cookie sheat.
Criss-cross flatten with a fork.
Bake for 14 minutes.