Annacia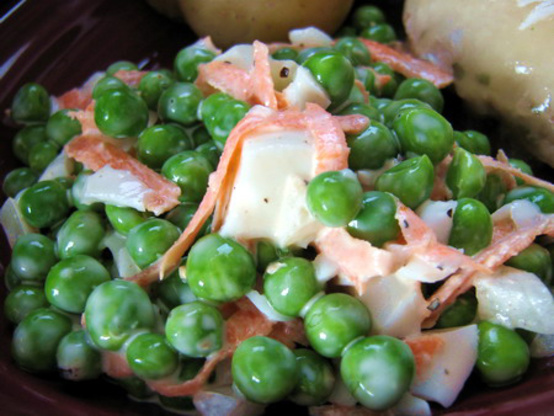 This is a recipe that is done mainly by taste so trust your own tongue!!.... I was raised on this salad but for most people when you say PEA SALAD, they have never had it but it is really good and the kids LOVE it..it's a good way to get kids to eat peas!..It is ALWAYS great for a picnic or BBQ..it is also a conversation starter as it is unique!..VERY important to keep this VERY cold and eat it cold!

Top Review by J-Lynn
Good! Refreshing and different. I didn't have carrots and (oops!) discovered I was out of onion. I rehydrated about 1 Tbsp. of onion flakes before mixing them in. Probably used about 3 Tbsp of mayo in total. Good flavor; might add a little sugar next time (like in 7 Layer Salad).
drain peas.
cut open eggs and take out yolks, put in bowl and mash with a fork.
put eggs whites in another bowl and chop really fine.
chop up onion really fine.
put peas(DRAINED!), egg yolks, egg whites and about 1/3 cup chopped onions in bowl , add approx 1 tsp of parsley flakes.mix up.
take carrot and with a knife, SCRAPE down the length, you don't want chunks or bites of carrots, you want VERY thin strips of carrot for color.
add 1 tbs mayonnaise and mix, keep adding mayo until you get the desired thickness that you want.ENJOY!