Mom's Oyster Dressing/Stuffing
Parsley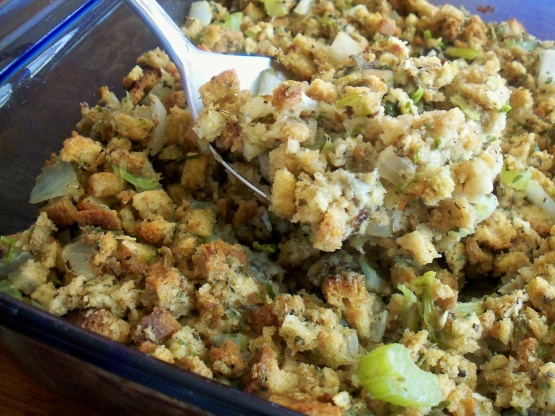 The best thing about a stuffed turkey is the oyster dressing. My grandma (Gigi) and mom would argue every year as to whether it was better made with cornbread cubes or regular bread. I prefer regular bread, but you decide for yourself.

This is a very good recipe for an all time holiday favorite with most of my family (some prefer plain dressing, so I make both). <br/>We like our dressing really moist so I added 1 cup of organic chicken broth and an egg to the mix.<br/>Thank you for posting this!
Heat milk, butter, and oyster liquid in small pan.
Combine bread cubes, celery, onion, spices, and oysters. (You may cut up the oysters if they are too large for you.).
Add liquid and stir.
Stuff poultry or place in greased foil lined baking dish.
Bake 350 degrees for 1 hour, or until poultry is done.