Mom's Outrageous Brownies
Prep 20 mins
Cook 45 mins
My mother found this recipe in the newpapers several years ago and claimed it as her own even though it was originally submitted by a woman named Lola Wohlford. I will give credit to both ladies here as the creators of a truly "outrageous" brownie.
Directions
Preheat oven to 350 degrees.
Combine the first 5 ingredients and pour into a well-greased 9x13" pan.
Bake 35 min or till set.
Allow to cool before icing.
For icing: Combine the sugar, butter and milk in a saucepan and bring to a boil over medium heat, stirring frequently so as not to scorch.
Boil for one minute.
Add the chocolate chips and stir to melt.
Beat the icing with a spoon about 2 minutes, until fudgy thick.
Ice the brownies.
Reviews
Most Helpful
Featured in my Book#237470. Originally reviewed on Oct. 15, 2008. A treasure! Signature heirloom quality! Outrageous that this has never been reviewed before. This is the exact recipe I have used for years that is inside the Dunn County Cookbook. The only difference is that I use walnuts and bake in a jelly roll pan that is 10 X 15 inches for 35 to 40 minutes. The icing is like fudge! In the Dunn County Cookbook 13 people contributed this recipe so it must be great! Thanks Janet Knowles for posting.

OMG - I am in brownie heaven! Super simple, and the result is out of this world. I will be making this again and again and again.... Thanks, WiGal, for the recommendation!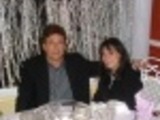 In my opinion, the best thing about these brownies is the frosting! It tastes like fudge. The frosting sets up/hardens very nicely, too. The brownies themselves were just so-so for me. To be honest, I think the boxed brownies have a better taste. Maybe I did something wrong.? I would have given the brownies a 3 star and the frosting a 5 star - so I settled on 4. I will definitely be using the frosting recipe again and again. Thank you!