Mom's Old-Fashioned Beef Stew
Karen G.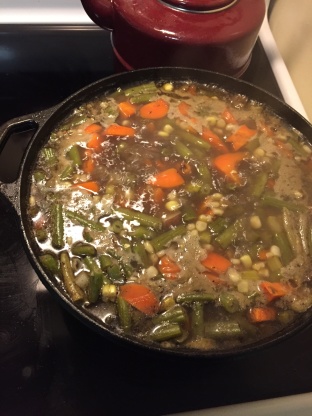 This is the beef stew I've been making for over 30 years! Dark-brown beef and vegetables in lots of rich gravy,it's total comfort food on a chilly night and freezes very well. Originally from the 12th edition of the Fanny Farmer cookbook, published in 1980, I've modified it over the years to what we consider "perfect"! :) I've also done this in the pressure cooker when time was short. Add some crusty rolls to mop the gravy up and you have a yummy meal.I usually add some Kitchen Bouquet or Gravy Master while the meat is simmering to make an even richer flavored gravy and thicken it toward the end of cooking with some Wondra or a flour slurry.You can also start this the day before up until adding the vegetables. Remove the bones from the pot and refrigerate overnight. Before proceeding, skim off any fat that has congealed on the surface and continue with the recipe.I usually use half beef broth and half water.
Mix flour, salt and pepper in a large ziplock bag.
Add beef cubes, about 8 at a time, and shake in the flour mixture.Remove from bag and set aside.Flour-coat the rest of the beef cubes in a similar manner.
Heat the oil in a large, heavy-bottomed pot with a lid or a Dutch oven.
Add the beef bones and brown on all sides; remove from oil and set aside.
Add more oil to the pan if needed and heat.
When the oil is very hot, add the beef cubes, a few at a time so as to not crowd them, brown on all sides and remove.
When the last batch of meat is a richly dark brown color, return bones and browned beef cubes to the pot, and pour on the boiling broth or water.
*Stand back when you do this, because it will spit and sputter!*.
Stir and add the lemon juice,worcestershire sauce,bay leaves and allspice.
Lower the heat, cover and simmer for 1 1/2 to 2 hours, or until the meat is tender,.
Add the onion, carrots and potatoes and cook for another 30 to 45 minutes or until the vegetables are fork-tender.
Remove bones from the stew and discard.
Thicken stew with a flour slurry,if desired, and serve.