Mom's Oil Crust Pie Shell
COOKGIRl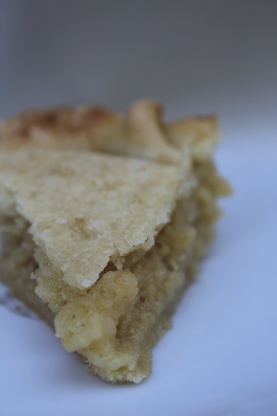 My mom's favorite pie cookbook is the old Farm Journal's "Complete Pie Cookbook" from 1965… and her copy is well-used and loved, full of clippings and hand-written notes. This recipe is based on the one from there, with modifications to her taste. It works really well for all sorts of pies, especially her Quiche Lorraine (see my other recipes) and pumpkin. Simple and flaky! Makes one 9-inch pie shell with a little left over… Mom takes the leftover and makes it into little snack crackers. :) My sister claims she doesn't like oil crust, but she never knows the difference when Mom uses them in her pies.

Thank you!!! I have been trying to find a crust like this forever, and it is so easy to make, I didn't know I could use oil, and it is just what I was looking for. Ttthhhaaannnkkksss!
2

cups sifted flour
1 1⁄2 teaspoons salt
1⁄2 cup cooking oil (Mom uses canola)

4

tablespoons cold water (some folks use 2 Tbsp water and 2 Tbsp milk, but Mom prefers the taste of the crust with all water)
Sift the flour and salt into a large mixing bowl.
In a separate bowl, combine the oil and water (and milk, if using 2 Tbsp water and 2 Tbsp milk).
Pour liquid mixture all at once into the sifted mixture, and then - with your hands - press the dough into a smooth ball. Be careful not to overwork the dough or it can become tough; it will be somewhat crumbly and soft.
To use, press the dough into the pie shell and shape the edges into flutes with your fingers. If there are thin spots, the dough is soft enough to easily to press extra into them with no worries.
Note: use any left over pieces of dough by baking them into little snack crackers. This dough freezes and thaws really well!