Mom's Most Requested Chocolate Pie
jenjie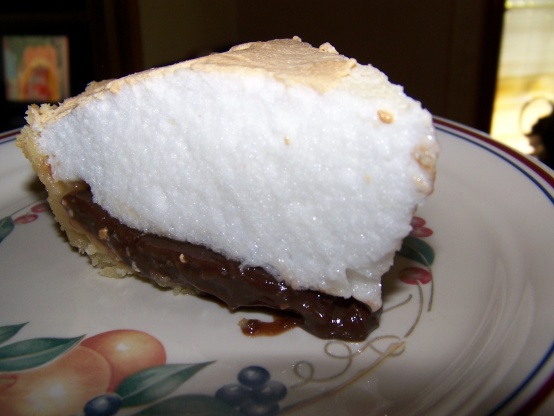 This chocolate pie is not only a Southern traditional dish, but my mom has to make 2 to take to church lunches. Most people go back for dessert only to find all the pie gone - the smart ones get their piece on the first trip through. This is pie is also served as "birthday cake" on most everyone's special day. And the only way to top it off is with a piled-high meringue!

Redneck, this recipe didn't dissapoint me, or the others that ate it. I wish I could give you more stars. I tell you what, I'm being very good, and really watching what I eat. But, I tasted this in order to give a true review. Thanks to the help boards, I will share that I made 2 deep dish pies. I tripled the filling and just divided it between the two pies. It filled each of the pies right to the top, it couldn't have turned out more perfect. I also added an 8 oz container of cool whip to each pie (made it real high) and then I took my vegetable peeler and a Hershey Bar and made chocolate curls all over the top. I have never posted a picture, but this recipe has made me want to learn how in order to show this beauty. I did save a piece in order to take a picture. Hopefully it will work out and I can post a picture. Thank you so much for sharing you and your mom's recipe. I've already had several requests to make it again.
1

cup sugar

3

tablespoons all-purpose flour

3

tablespoons cocoa

1

dash salt
1 1⁄2 cups milk

2

egg yolks (reserve whites for meringue)

1

tablespoon butter

1

(9 inch) pie crusts, baked
Combine all ingredients except butter in a saucepan.
Cook over medium heat until thick like pudding, stirring constantly to prevent scorching and lumping.
When mixture becomes thick, remove from heat and add butter; stir to combine.
If lumping does occur, beat filling with a whip.
Pour into pie shell.
Make meringue according to your favorite recipe and top pie, sealing the edges with the meringue.
Bake to brown meringue.
Best if allowed to cool to lukewarm or room temperature.