Mom's Moist Roasted Chicken
PaulaG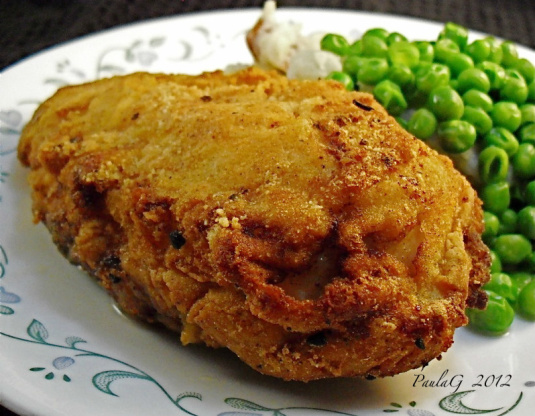 Growing up my mom would make fried chicken but it was always greasy - and always dry so we did this the other day and it came out so very very good.....so my daughters called this Mom's Best.
Top Review by PaulaG
I really enjoyed this method of frying chicken. I did use boneless, chicken breasts but am looking forward to using bone-in chicken pieces in the near future. The chicken was nice a crisp and cooked through. A cooling rack was placed on a cookie sheet and the chicken baked on top of the rack. This helps to ensure even cooking and crispness throughout. Made for the LOVE Train.
Place chicken pieces into buttermilk, hot sauce, salt, pepper and smashed garlic. Make sure you work the buttermilk into the chicken pieces. Cover with plastic wrap and place in the fridge for anywhere from one hour to 24 hours. (I took the skin off of the chicken breasts, left the skin on the smaller pieces.).
Remove the chicken from the marinade, do not dry, just let the buttermilk drip off. Combine flour with cayenne salt and pepper, dredge each piece through the flour - in a separate plate add your panko place each piece of chicken into the panko and press into the chicken.
Heat the oil to 300°-325°F place the chicken into the oil and allow to cook without turning for the first 8 minutes, turn and when you have completed the turn check the internal temp of the chicken it should be between 140°-145°F.
Place onto paper towel to drain any excess oils - place into the oven for 15 minutes at 325°F Your internal temp should be 160°F -- enjoy!