Mom's Melt-In-Your-Mouth Dinner Rolls
ctrmom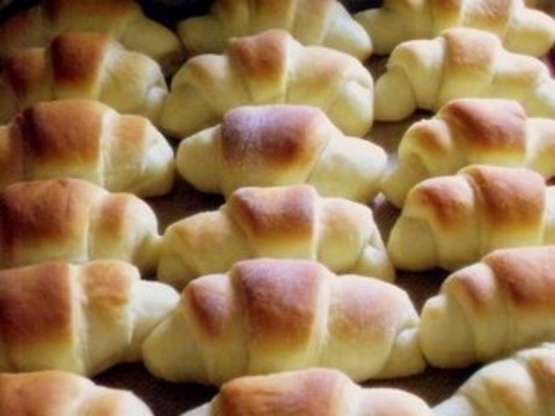 My mom made these rolls for every occasion I can remember. They are originally in a little cookbook by Beverly Nye from Cleveland, Ohio. They are practically no fail, since there is no kneading involved. They are always light, tender, and delicious, and so popular that I usually plan on at least two per person rather than the one indicated here. They are also really convenient since you make the dough the night before and refrigerate it for the first rise. The times indicated do not include refrigerating overnight or the 2 hours they take to raise before baking. (P.S. Thanks for the photo Danielle)

The BEST!!! I have been making these rolls for 20 years. I have the book in which they originally appeared. "A Family Raised On Sunshine" by Beverly Nye. They are so easy to make, and have always been a hit. When I make them..I roll the dough out into a thin, large rectangle and cut into 2" strips. I butter the strips with melted butter (I never use margarine). I stack four strips, and them cut them into 2 " pieces. turning them on edge, I put them into cupcake pans that I have oiled slightly. Let rise 2 hrs. and when they bake, they open like fans. they require no extra butter. Making some now for Christmas Eve dinner. Enjoy!!!!
Dissolve yeast in warm water and add 1 tablespoon sugar and baking powder. Allow to stand for 20 minutes.
Meanwhile scald milk. Add margarine, 1/3 cup sugar and salt. Cool a little and then add eggs. (I do this step in my 4 c glass measure in the microwave.).
Combine all with flour. Cover and refrigerate overnight. (The dough will more than double in bulk, so make sure your container is big enough. If it looks like it might outgrow its bowl, you can always punch it down once or twice without any ill effects.).
Two hours before serving, divide dough into thirds and roll out into large circles about 9 inches in diameter on a floured surface. The dough will be sticky, but don't worry. It will quickly come together and handle really well with a few sprinklings of flour (not too much). Cut into 8 wedges and make crescent rolls by starting at the wide end and rolling up. Place on greased pans to rise, covered with clean towels.
Bake at 425 degrees for 8-10 minutes. Mom always rubbed the hot rolls with a stick of butter when they came out of the oven, and I do, too. It makes them so beautiful.