3 Reviews
These meatballs are great and I'm a tough critic when it comes to anything involving tomato sauce. I made some alterations. I used 3 1bs. of beef instead of 2. I also baked the dish uncovered and drained of the fat. Last I topped it off with about 2 cups of shredded mozzerela, american and parmisean cheese. (2 c. combined) Talk about rave reviews around here! My husband is a welder and works hard so when he gets home he enjoys a hearty meal. This recipe takes some time but is very filling and tasty. Leftovers got put in the freezer for sandwiches later. You gotta try this!!
smelled horrible when i started preparing so i had doubts, but they turned out great!
Very good! We all enjoyed. They were slightly on the salty side - but I may have gotten too much worcestershire sauce in them. I will go more lightly on it and the salt next time. I also went light on the curry as it is not my favorite spice.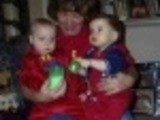 Mom's meatballs in wine sauce