vrvrvr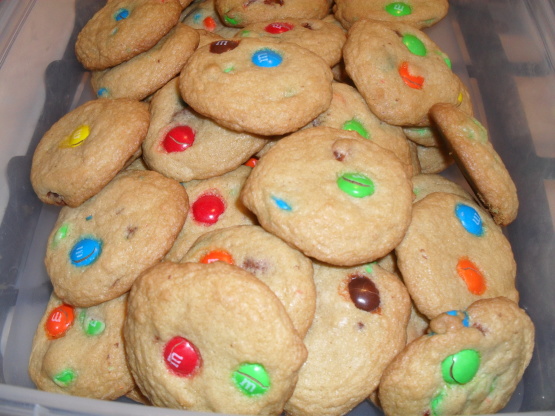 My mom made these cookies often when we were children. Always a big favorite. My nephew has graduated from high school and asked that I make m&m cookies for his graduation party. I had forgotten how wonderful they are. Try them...ummmm..

I made these again today, and I figured out that if you put the extra M&M's on top right after they come out of the oven, the shells of the candies on the top don't break or crack. Also, if you roll them into balls when you put them on the cookie sheets, they look bakery-perfect. I used sil-pat sheets instead of parchment paper, and it's now a five-star recipe, in my opinion! I brought them to a school event, and they were the first thing that was all gone!
Mix butter, sugars and vanilla until blended.
Beat in eggs.
Save 1/4 cup of flour to coat candies.
Add dry ingredients to mixture.
Mix until well blended.
Stir in the flour coated candies and the rest of the flour until well mixed.
Some people like to save half of the candies out and use them to decorated the top of the cookies before putting them in the oven.
Drop round teaspoon of cookie dough on ungreased cookie sheet about 2 inches apart.
Bake for 8-10 minutes in 375 oven.