Mom's Incredible Chicken Stew
Whisper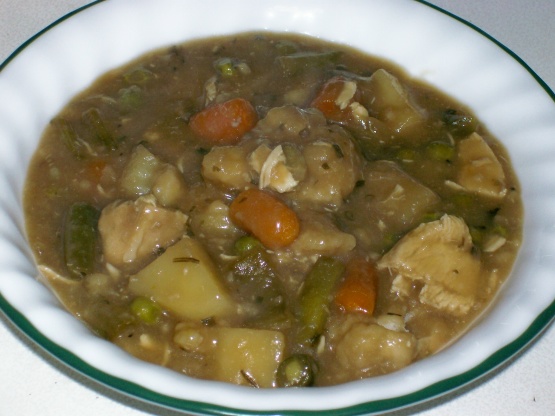 This is one of my Mom's recipes, just as she had it written. I used to love to have it at her house for Sunday dinner. Makes a great winter meal, steaming hot and filling. (Cook time includes time to cook chicken initially.)
Place first 7 ingredients in large pot; cover with water.
Add soy sauce; simmer until chicken is tender, about 1 1/2 hours.
Remove chicken from pot; cool and debone.
Replace chicken to pot.
Add Knox soup mix, potatoes, and frozen peas.
Simmer for 1/2 hour.
Mix Bisquick with 1 cup water.
Drop the dough by large tablespoonfuls into simmering stew (about 15 dumplings).
Cover and simmer for 10 minutes.
Uncover and simmer for another 10 minutes.