Annacia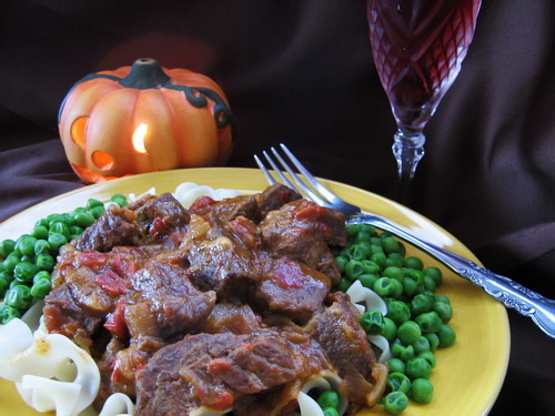 My mom makes great goulash. Being Hungarian, on my mothers' side, I learned very early how to make goulash. It's a staple in my house during those cold winter months. I've made it with beef, pork, lamb even chicken. Great when you're on a budget. BUT, you have to use Hungarian paprika, it's a whole other flavor! Goulash should be thick and you should be able to taste the paprika! I've seen some recipes and well they aren't authentic.

This was WONDFULL! I choose this recipe as the BEST out of all the recipes I've tried here on ZAAR! Very easy to make. Next time I will brown meat first, remove, saute the veggies, then finish off the recipe. (I couldn't get my meat "browned" after adding to onions) My changes: I used 1 can of beef broth, added 1 shallot (since I needed to use it up) I did slice 1 of the onions so I would have a little more texture. I went to one of my gourmet cooking sites to see how they made HG and all were very similar to yours so I went with yours. They did recommend to use as much onion as you do beef and 1 TB of paprika per pound of meat which is exactly what your recipes worked out to be. Great! Oh, I did use round steak and it came out nice and tender, not dry. The gravy was fantastic. I did cook on top of the stove with lid but after a hour put in 350 oven without lid to thicken up the gravy. This was just WONDERFUL!
Which ever type of meat you use, cut into bite size pieces and set aside. Roughly chop your onions and peppers and in large pot add oil, onions, peppers and saute til soft add meat and just brown slightly. Add paprika, cayenne (if using). To this also add your flour and stir until combined. Don't add all 4 cups of water at once! Add enough water to just cover (you should still be able to see the meat - too much water and you'll make soup).
Cover and bring to boil. Once this boils, lower heat to med low and let simmer for about 1 1/2 hours. It has to cook slowly to really absorb flavors and the meat must be very soft. Stir occasionally so that the bottom doesn't stick and burn and if you need to add LITTLE bit of water. It has to be thick once it's cooked through.
Test your meat for doneness, if it's easily cut with a fork it's good. Season with salt and pepper. You can serve with cooked noodles, rice or mashed potatoes.
We do the mashed potatoes. And if we have leftover mashed potatoes (I make a lot of mashed potatoes!) I always make my "Potato Fake Out".