Tona C.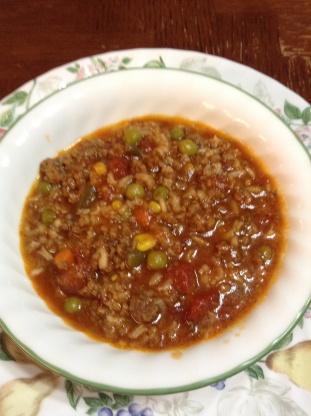 I made a pot of Mom's Hamburger Soup this afternoon which is really smelling and tasting good. And I just emailed my daughter and asked her to bring home some crusty rolls from Panera's to have with it. This is a thick and hearty soup -- perfect for dunking the bread. It's cold outside, so this will be great for supper tonight. Since it's one of those recipes that isn't written down, I decided to post it while everything is fresh on my mind. Mom always used spaghetti, but I think it gets too mushy when the soup is warmed up for the 2nd or 3rd time. And she didn't use the steak seasoning, but to me it seems to lift the taste of the meat and tomatoes.

I made this this past weekend, when it was chilly and my SO was coming in from a long hard road trip. He really enjoyed it! I used little pasta stars and some beef broth to thin it out!! I used the steak seasoning, also. Made for PAC Spring 2010.
Use 8 quart stock pot.
Combine first 4 ingredients and cook together until hamburger is loose and no longer pink. Do not overcook. Drain off grease and return meat mixture to the stock pot.
Add the diced tomatoes, tomato juice and steak seasoning to the meat mixture; simmer on low heat for 30 minutes. Stir after 15 minutes.
Add the frozen mixed vegetables; simmer on low heat for 60 minutes, stirring every 15 minutes.
Add the rice and 2 C water; continue to simmer for about 60 minutes stirring frequently. Add additional water if soup is too thick.