Mom's German Potato Salad
Bev I Am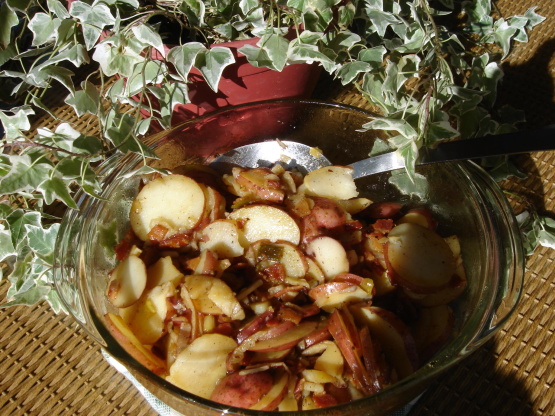 I know there is a debate as to what constitutes "real" German potato salad. All I know is that this is TOO tasty! For those of you who shy away from German Potato salad because it is too vinegary, try this. It has converted MANY people as the balance is darn near perfect. Prep time does not include boiling the potatoes.

Top Review by Merlot
Hi Michelle! This is a wonderful german potato salad. We loved it! I had some left over ham that needed to be used up and this was a perfect side dish to go with it. The vinegar, sugar, water and flour amounts were perfect for this dish. I have put this in my "keeper" notebook. Thank you for sharing and also thank your Mother!!!! :-)
Preheat oven to 350 degrees.
Place potatoes in a casserole dish, season with salt and pepper.
Cut bacon into smallish pieces.
Brown in a large skillet.
Remove bacon with a slotted spoon, and place on top of potatoes.
DO NOT drain skillet!
In skillet add the onion, vinegar, water, flour and sugar.
Mix well, bring to a boil and stir until thickened.
Place sauce mix over bacon and potatoes.
Mix well.
Bake for 30 minutes.