twissis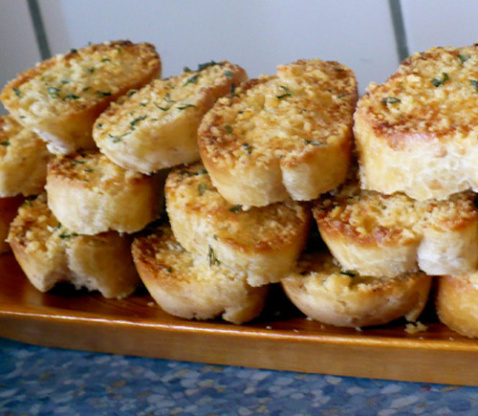 Melt in your mouth goodness!

Made for Spring PAC 2013 - Like the prior reviewer & for 2 of us, I halved this recipe. Except for adding parsley to the Parmesan cheese sprinkle, I made the recipe as written (using the max amt of garlic allowed) .. BUT I did chg the presentation & 1 thing about the prep. I used frozen baguette rolls vs the French bread & sliced them after they were baked. Instead of dipping the slices in the garlic butter mixture, I put them in a flat baking dish & used my basting brush to apply the butter. There was no muss, fuss or waste. It was done in a flash & I think this is an improvement over your suggested prep. All that said, the bread was delicious & will have an encore at our table for sure. Thx for sharing the recipe w/us.
Melt butter and add minced garlic, let sit on low for a bit to incorporate garlic. Cut bread into individual slices, dip one side into garlic butter and place face up on a baking sheet, repeat until done (you may need to add more butter to evenly coat all pieces) shake parmesan cheese over top and put under broil in the oven until golden brown (3-4 minutes).