TGirl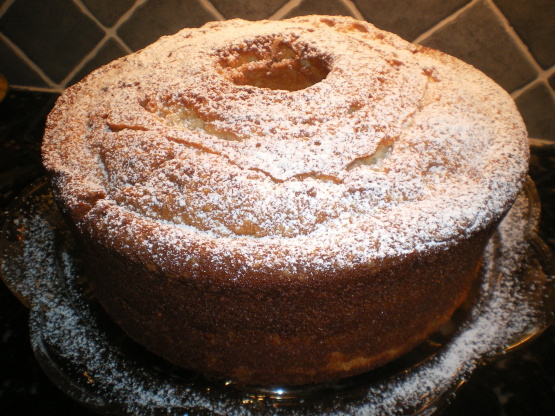 This is my dad's all time favorite cake-he wants it for his birthday, Father's day--any excuse will do! Another cake my relatives ask my mom to make for them in lieu of Christmas gifts! It is a family favorite!!

Holy Cow, this was a good cake! This recipe was suggested to me in response to a question I asked about making a true pound of butter, pound of sugar, pound of flour cake. And this is that cake! Just for fun, I weighed the flour and three cups is a pound. So I weighed the sugar and used a pound (it was just less than the three cups called for). And of course, the cup of butter and half cup of shortening are 3/4 of a pound, so this is a real pound cake! I might use a whole pound of butter next time, just for fun. Anyway, this cake was so delicious. I took it to a Spring Equinox celebration, and everyone loved it. I served it with whipped cream and diced strawberries. I could eat this every day!
Cream butter, shortening and sugar.
Add eggs one at a time, beating well.
Add baking powder,vanilla and lemon flavorings; mix well.
Add 1/3 of the flour and 1/3 of the milk; stir well.
Repeat until all the milk and flour are added and well combined.
Bake in prepared (greased/floured) tube pan at 350 degrees for 75 to 90 minutes, or until cake tester comes out clean when inserted in center of cake.