ImPat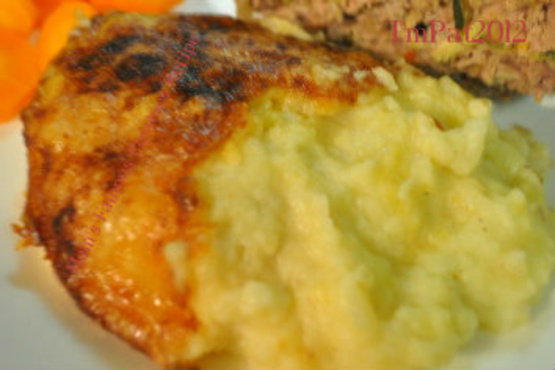 This is out of a local TV Cookbook by KCTS Cooks (favorite recipes). Sent in by a Bellevue, Washington viewer. She said it's always requested for special family gatherings, and can be prepared ahead of time.

Top Review by ImPat
Scaled this back for 2.5 serves and after serving 3 still had a serve left over (DM has requested it be fried up for breakfast in the morning). I did also scale back the cheese and sour cream for health reasons - the scaled back recipe called for 8oz Swiss chease [I used 4oz] and used 1/2 cup of light sour cream instead of 1 cup and we still found it rich and indulgent. Thank youTeresaA made for ZAAR Stars.
Boil potatoes in salted water until not quite done.
Drain, cool and scrape off peels.
Grate potatoes into a large bowl, using the big holes of the grater.
Peel onion, cut in half and slice very thin.
Mix onions with potatoes.
Add salt, pepper and nutmeg.
Grate cheese and add to potatoes saving about 1 cup for top.
Add sour cream and mix well.
Taste and adjust seasonings.
Pile into a 9 X 13-inch baking dish and top with remaining cup of cheese.
Sprinkle with paprika.
Bake for approximately 1 hour at 350 degrees.
If prepared ahead and refrigerated, allow more baking time.