Mom's Famous Half-Shell Potatoes
Brenda.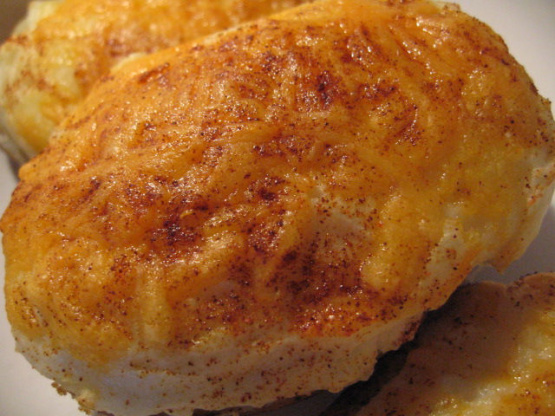 My mother's simple recipe for twice-baked potatoes. I've experimented using sour cream in the filling and cooked crumbled bacon, slivered green onions and even crab or baby shrimp for topping before baking -- but I still like her original recipe best.

My DH says "Thumbs up"! In star ratings I would say this is a 5 LOL. I baked 2 extra potatoes so I could use the pulp to stuff these nice and full. Instead of plain salt I did use Lawry's seasoned salt and finished them off with smoked paprika. Easy?- Yes. Basic? Yes. Delicious? Tell Mom she may be getting a card from my DH on Mother's Day :) Seriously, just because a recipe is fast and easy doesn't mean it lacks, and we thought these were terrific. Thanks for sharing Mom's recipe. *Made for PAC Spring 2010*
PREHEAT oven to 400°F with rack in the center position.
WASH the freshest smooth-skinned blemish-free russet potatoes; PIERCE each potato evenly 4 times using a fork; COAT each potato with vegetable oil; SPRINKLE each potato lightly with kosher salt; WRAP each potato with aluminum foil.
PLACE potatoes on center rack in oven; BAKE potatoes for 1 hour.
REMOVE potatoes from oven; ALLOW to cool just slightly; LOWER oven temperature to 350°F.
REMOVE foil from one potato at a time with one oven mitt; CUT potato lengthwise on a cutting board with a serrated knife across the flattest, widest surface; HOLD hot potato in oven mitt; SCOOP put out potato pulp carefully from each half into a large bowl, leaving enough skin and pulp in each shell to support filling; PLACE each shell cut-side up on a cookie sheet; REPEAT same process with remaining potatoes, working quickly and carefully while potatoes are still warm.
WHIP potato pulp well using a potato masher or fork; ADD 2 tablespoons softened butter, 2 tablespoons real mayonnaise, 1/3 cup whole milk, kosher salt and finely ground pepper to taste (more milk may be added for potatoes to remain stiff yet fluffy; ADJUST seasoning if needed; STIR in 1/2 cup shredded sharp cheddar cheese; FOLD in chopped onion last, just until combined.
FILL each potato shell on the baking sheet evenly until all of the potato mixture is used; TOP each potato with sharp cheddar cheese, divided evenly between potatoes; SPRINKLE potatoes lightly with paprika (smoked paprika is good); potatoes may be covered and refrigerated up to 24 hours before baking.
BAKE potatoes on the center rack in oven, for 15 minutes.
COOL baked potatoes for 3-5 minutes.
SERVE and enjoy!