Mom's Easy Peanut Brittle
Bayhill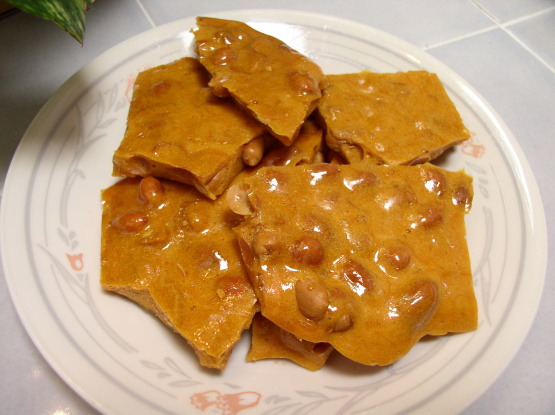 My mom got this recipe years ago from someone she worked with...she made it at Christmas and holidays quite a bit. I have never made it, but I know it tastes yummy!! If you like alot of peanuts to candy ratio, use the whole 1 1/2 cups peanuts (or more if you like)...it's purely personal preference!

Top Review by podapo
I was only going to give this 4 stars ONLY because the second step leaves one to wonder. But then it was my first shot at peanut brittle so I thought, "until the peanuts get golden brown". Luckily the bag of spanish peanuts had the exact same recipe (well actually theirs had salt) and it said to continue to cook to 295 after adding peanuts. I will be making Peanut Brittle EVERY Christmas from now on and more then likely using this recipe. Thanks TA and congrats on your football pool win. Sorry it took me so long to make and review!!
Stir syrup, water and sugar together in large, heavy pan to hard ball stage (250*F- 265*F-- A little of this syrup dropped into cold water will form a hard ball).
Stir in butter and peanuts until golden brown.
Stir in vanilla and soda.
Pour into 2 buttered pizza pans, just shaking pan to even out mixture.
Cool and break into pieces.