Mom's Dried Beef and Corn Casserole
Bec6206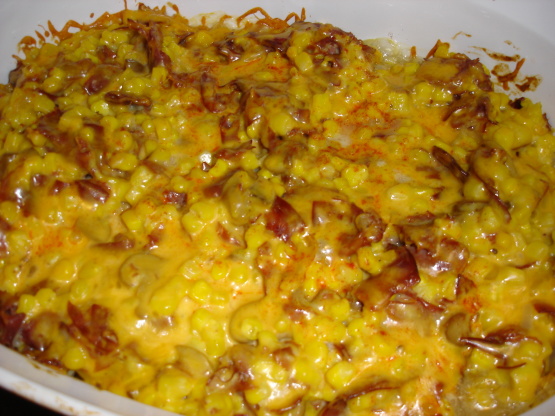 This was my mom's favorite casserole when she was younger. However, she didn't get it very often because her brothers didn't like it as much. I like it, though, so I posted it! To make the dish less salty, rinse the beef in water before cooking. Also, cut down on the addition of salt in the recipe. (I find I need to do these things, to suit my tastes)
Saute 1 tablespoon butter and onion, add beef and mushrooms.
For the white sauce: Melt 2 tablespoons butter with a wooden spoon.
Blend in flour, salt and pepper, and stir until bubbly and then remove from heat.
Stir in milk.
Put it back on the burner, and stir constantly.
Bring to a boil, and boil for 1 minute- Keep stirring so it doesn't burn.
In a small bowl, beat egg yolks and add the prepared mustard, and salt and pepper to taste.
Combine the egg yolk mixture with the white sauce mixture and dried beef mixture.
Add the 2 cups corn.
Pour into a 2 1/2 quart baking dish.
Grate 1/2 cup cheese on top.
Sprinkle paprika on top.
Bake covered at 350 degrees for 30 minutes.